On-Campus Dual Enrollment
This program is for students who come to campus and take courses that are beyond those available in high schools. With credit for introductory level classes, students may choose from many offerings typically taken by second or third-year students at Georgia Tech. Students will enjoy lectures and labs with our highly respected faculty members and their teaching assistants. Students must have plans to take any courses needed for graduation in an alternative setting if they cannot register for those classes on our campus.
Available Dual Enrollment Courses
There are a variety of courses that have been approved for dual enrollment at Georgia Tech by the University System of Georgia. Enrollment in these courses is determined as space is available.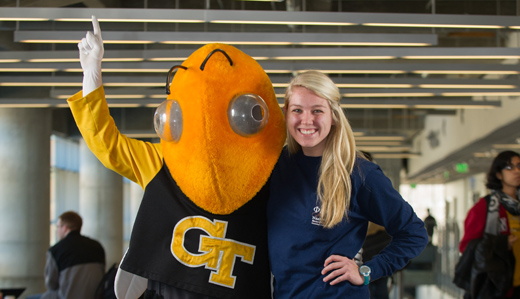 Things to Consider Before You Apply
Course Availability
Dual Enrollment students are not guaranteed particular classes. You must be flexible about classes that will meet your educational goals. Because our introductory-level classes are usually filled by our first-year class, we typically do not admit students to take classes that do not have prerequisites.
Orientation
All admitted on-campus students planning to enroll are required to attend a summer orientation before the start of classes. During orientation, students will receive academic advising and register for Tech classes with their advisor and the registrar.
Class Schedules
You must be flexible about the time of day and days of the week that you take classes. Our class day begins at 8 a.m. and most classes are between 9 a.m. and 1 p.m. Labs are commonly later in the afternoon.
You will be on Georgia Tech's academic calendar. If your high school has a break and Georgia Tech is in session, you should plan to be in class. You will abide by the Institute's absence policy as outlined in the catalog.
Travel and Parking
If you are considering taking courses at Georgia Tech and at your high school at the same time, think about the amount of time you will need for travel, allowing for Atlanta traffic. An annual parking permit on campus for a full-time student cost $795. A part-time student may consider SmartPark, a pay-as-you-go program.
Admission and Application Process
---
The dual enrollment admission process is selective. Interested students should have a profile like students in the top quarter of Georgia Tech's first-year class to be competitive.