Explore Atlanta
While you are visiting Georgia Tech, we encourage you to schedule time to explore the great city of Atlanta. Below are some of the many ways to explore Atlanta prior to or after your Georgia Tech visit!
Atlanta Attractions
About a mile from campus, you can visit the World of Coca-Cola, National Center for Civil and Human Rights, and Georgia Aquarium.
Outdoor Activities
For visitors that want to spend some time outdoors, recommendations include exploring the Beltline, a walking and bike path around the city that was designed as part of Ryan Gravel's Georgia Tech master's thesis. Other outdoor activities include exploring the Atlanta Botanical Gardens or enjoying Piedmont Park.
Atlanta Sports
If you are a sports fan, stop by the College Football Hall of Fame or take in a professional sports game, like an Atlanta Braves baseball game, or an Atlanta United soccer game while you're in town.
Food and Dining
You will definitely not go hungry while you are here in Atlanta. Ponce City Market is a great place for the whole family to find options that they like. The Ponce City Market Food Hall has over 20 different options to choose from! There are many great options for BBQ and southern comfort food choices. Checkout this list of restaurant recommendations and explore the dining experiences Atlanta has to offer.
Things to do on Georgia Tech's Campus
With over 15,000 undergraduate students and more than 400 student organizations, there is always something happening on Georgia Tech's campus. While you spend time on campus, make sure to give yourself some extra time outside of your scheduled visit to explore on your own.
Once you know when you are planning to visit campus, make sure to check out the Campus Calendar to see what else might be happening and open to the public. With 17 NCAA Division I sports teams, there is a good chance you might be able to attend a home sporting event and cheer on the Yellow Jackets.
During the academic year, you can find many clubs and organizations tabling on Tech Walkway, and on Wednesdays, you can grab a bite to eat at the Farmer's Market. There are many great dining options to try while you are on campus. Some popular highlights include the Student Center Food Court, North Avenue Dining Hall, and Brittain Dining Hall. If the weather is nice, be sure to check out the on-campus food trucks.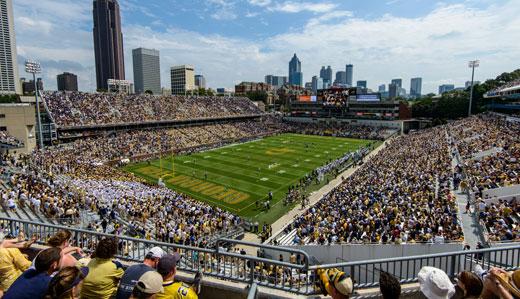 We look forward to seeing you on campus! If you have any questions regarding visiting campus, please contact us at admission@gatech.edu or 404.894.4154 during normal business hours.